Start Young People On Railroads! This map is intended to entertain the young folks. I started this after reading a post stating that someone got back into SMR because their 2 year old enjoyed watching the trains. So here's one to try with your child or grandchild. You can play the whole scenario in 30 to 40 minutes.
The stars of our show: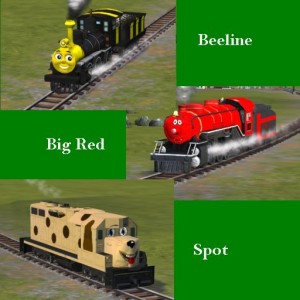 This was designed for the entertainment of young folks and to be played as a solo map or in Table Top mode. That said, there are 4 starting locations so play against AI is possible. No testing against AI was done. While I know the map will function with AI, I have no idea what the playability with them would be. This map is not difficult and was not meant to be. It was designed to hopefully make a child smile. My youngest grandson is visiting in a couple of weeks and I look forward to showing it to him. Money should not be an issue in this scenario. Delivery of some mail and passengers should keep the funds flowing. And then there are the diamonds…. Enjoy.